Hi All,
Aeryu here. I just created this SR Evolution Chart as i got tired of going back on forth on the wiki in order to remember which cards lead to which evolutions.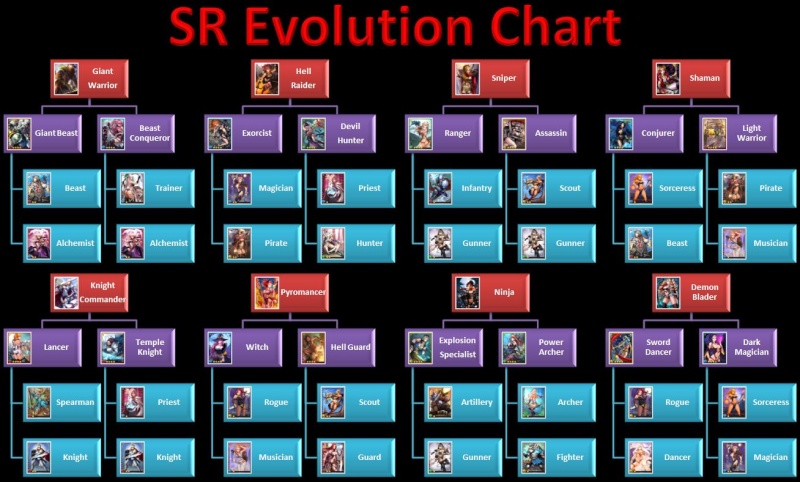 Hope you guys can see it clearly, since the Forum images are automatically reduced in size.
This is just a chart to show which cards you need to lead to the evolvable SR cards

. All other SR Cards are not shown here, simply because it would be rather useless to create a chart for it. A1 + A1 = A2.
For new players who aren't familiar with the mechanics, its simply:
Enchant your N cards till they reach N+++ (Light blue boxes). Level them up to 5 and combine with another N+++ card to get your R card (Purple Boxes.).
Level your R card to level 10, evolve it to R+. Level it to 10 and combine both R+ cards in the chart to get your SR (Red Boxes).
All this information is from what i picked up from the wiki and other forum posts~ I only started 2 days ago so if i get any mechanics wrong  please just inform me

. I also do not know if the wiki is at the latest update, this chart merely shows what the wiki already shows, in a more friendly visual format (I hope).
There are 4 Rare Cards on the Wiki which cannot be evolved to SR Cards:
Long Bow Master = Spearman + Archer
Barbaric Warrior = Fighter + Beast
Dark Knight = Knight + Magician
Mercenary = Infantry + Artillery
I'm pretty sure that these rare cards can be evolved to SR cards in the future, or they might already be able to and the wiki just hasn't updated it yet.
I didn't show them in the chart as this chart is for evolving cards to SR

.
All other N cards can't be evolved to Rares at the moment.
Hope this helps everyone

. For stats you can refer to it at the wiki.
If you need a friend, feel free to add my code: J8907307
Thanks!
-Aeryu
Newbie




Posts

: 2


Join date

: 2014-05-14



Cool... Nice job there, looks a lot nicer than lists :p ...
High Normal




Posts

: 178


Join date

: 2013-12-19


Age

: 25





Similar topics
---
Permissions in this forum:
You
cannot
reply to topics in this forum